It had to happen, just like a stuck clock happens to be right once a day, but someone has finally figured out how to make a new Nike uniform look good.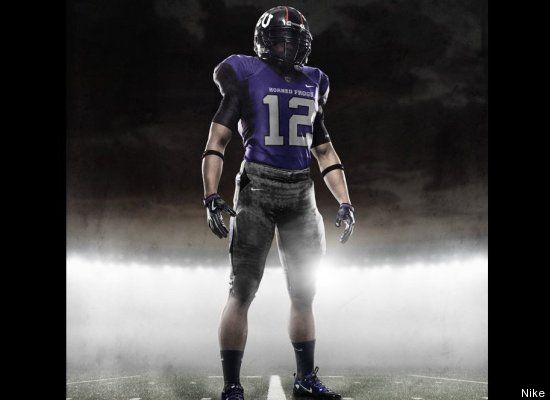 The person who did was Texas Christian's equipment manager, who
came up with this look
. The
front of the jersey
says "Horned Frogs",
inside the collar
says "Don't Back Down". There are two red lines
on the helmet
, representing the twin streams of blood a horned frog shoots from its eyes as a defense mechanism. And, of course, there's the incredible charcoal gray pants - a highly underutilized color in uniforms, I think. For comparison, compare the new uniform at left to
TCU's old uniform
. It's not even close.
In fact, the change was so good that TCU's coach
gave a game ball
to the equipment manager who designed the new unis.
I'm not usually a fan of changing MSU's traditional home uniform (green shirt, white pants, green helmet with the Spartan logo) too much, but I am one of those Spartan fans that doesn't mind a third color in the black/gray scheme - and wouldn't mind us trying those charcoal gray pants.
MSU's men's basketball squad occasionally rocks the newest Nike designs - those tight-hugging shirts for example - and while sometimes they'll have a few nice features, you'll never look at the jersey and go "whoa."
Perhaps that kid from TCU would be free to lend a hand on a new design.